Door stops are an object/device used to hold a door open or closed, and also to prevent it from opening too widely. They can also be helpful hardware elements that can protect walls from being damaged by doors or doorknobs. Earlier, people used bricks as a door stopper, but after the toxic nature of lead has been revealed, its use has been strongly discouraged. A doorstep can be manufactured using various objects such as a small wedge of wood, rubber, plastic, cotton or another material, they provide enough static friction to keep the door motionless. As these days, even a door stop can be an interesting piece of home decoration; it's not only functional but also plays a decorative role.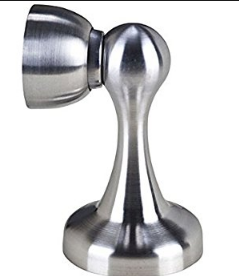 There are various types of door stops:
Hinge Pin
door stop
– They are attached to the doors hinge, the angled pieces have a rubber pad on either end and it will not allow the door to open wide enough to hit the wall. They work best on lightweight doors.
Floor Mounted Door Stops – They are attached to the Floors and used when the stop is needed to protect items in the door's path, rather than the wall itself.
Wall Bumper Door Stops – They are attached to the wall, at the same height as the doorknob and use a rubber bumper to protect the doorknobs impact.
Kick down Door Stops – They are attached to the bottom of the door and acts as a kickstand for a bicycle, they basically hold a door open, rather than preventing it from opening too far or hitting a wall.
They are easily available at nearby shopping place or online websites and are also cost-effective. Forgetting easy door stops you can visit the website or order them on Amazon.